Your own perfect personal pizza. Using only the freshest ingredients. Baked to order. At one low price. All in less than five minutes.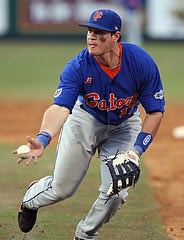 Sound too good to be true? It won't be for pizza lovers in the Tampa area, once Pie Five Pizza opens its first local restaurant. The nation's leading fast-casual pizza brand announced today that it has awarded 18 franchise units to retired Cleveland Indian and University of Florida baseball star Matt LaPorta and his team of business partners. The men will introduce the Pie Five name throughout Tampa beginning in early 2015.
The former Gator great, along with the help of fellow MLB retiree Josh Fields and restaurant operators Brandon Birdwell and Jeff Engle, is preparing to drive home Pie Five's game-changing fast casual dining experience in a territory spanning from Pasco County through Hillsborough County and as far south as Sarasota.
"What can I say, what Italian doesn't love pizza? For the longest time I've wanted to open up a cool pizza place like this. I guess you could call pizza my new passion," said LaPorta, a Port Charlotte native. "So when Josh told me about Pie Five, and my family and I tried it out for ourselves, I knew this was it. The operational model is excellent, the company's leadership is top notch and the food is fantastic. I'm convinced Pie Five is going to be a huge hit in this area."
The Tampa-area restaurants will be the newest members of the fast-growing, trend-setting pizza franchise family, which boasts more than 20 current locations nationwide. Fields, who is also currently spreading the Pie Five brand throughout Oklahoma City with former NFL star Billy Bajema, said he was eager to share the Pie Five franchise opportunity with LaPorta as well. To Fields, it was a no-brainer.
"The fast casual sector has become so much more than burritos and 'better' burgers, and Pie Five is leading the charge in the pizza scene," said Fields. "All it took was one visit, and when Matt saw what they had to offer – not only in the form of a perfect pizza, but also the exceptional business model and family-friendly value – he was sold. It didn't take long for all of us to get on board and join the Pie Five Pizza family."
At Pie Five, guests can choose from more than a million combinations of handcrafted pizzas and a variety of specialty pie choices prepared in less than five minutes on one of four crusts all for one low price. The rapidly expanding chain is capitalizing on growing consumer demand for fresh dining options and artisan pizzas in stylish environments without the wait.
Pie Five Pizza has been named among Fast Casual's 2014 Top 15 "Movers & Shakers," a 2012 Hot Concepts winner by Nation's Restaurant News and one of "10 Hot New Restaurant Chains from Established Brands" by Forbes.com. Thecompany currently has 21 locations in six states (Florida, Kansas, North Carolina, Tennessee, Texas, Utah and Virginia) with nearly 200 announced franchise units under contract in 13 states and Washington, DC.
"We couldn't have asked for better franchise partners in Tampa than Matt and Josh," said Randy Gier, chief executive officer of Pie Five Pizza. "Josh's hard work in Oklahoma speaks for itself, and we can't wait to celebrate his success in Florida as well. The fact that he was so eager to share our franchise opportunities with people like Matt and Billy speaks volumes about our growing enterprise. We're very pleased to welcome every one of these guys to our team."