Pie Five Teams with Blue-Chip Franchisees to Expand Midwest Footprint

Dallas, TX (RestaurantNews.com) Who said you can't have your pie and eat it too?
Well, nobody, actually. But pizza lovers in Michigan and Wisconsin are about to get their own perfect pizza pie, made fresh and served up faster than they ever dreamed, thanks to the impending arrival of the nation's newest pizza craze.
Pie Five Pizza Co. announced today that it has awarded up to 55 franchise units to John "J.D." Draper and John Draper II. The father-son team plans to introduce the nation's leading fast-casual pizza concept throughout the Wolverine state, as well as to cities in Wisconsin, beginning in 2015.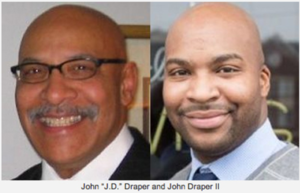 "Pie Five has hit the mark when it comes to giving people what they want. It's the right brand for the right time," said J.D., a native of Detroit."We've been in the food business all our lives and we understand the hospitality industry, so naturally we are thrilled as can be about the opportunity that lies before us."
An Army veteran and philanthropist, J.D. has been instrumental in developing numerous programs to recruit and train minorities. In 2013, he received the International Franchise Association's Ronald E. Harrison Award for his accomplishments in diversity and inclusion. He currently serves on the IFA's board of directors.
"I love Pie Five's 'make it, bake it and take it' concept, and I was blown away by all the fresh, high-quality ingredients they offer. Add to that their clean and modern restaurant design and the simplicity of their real estate model, and it's the complete package," said John. "With the Millennial generation, it's all about choices. In this day and age, people want to get out of their cars and enjoy a quick, sit-down meal without the sit-down price. We think Pie Five is the future of dining out."
Here's how it works. As Pie Five pizza lovers step to the counter, our Pie-artisans help them choose their favorite crust – artisan thin, classic pan, whole grain Neapolitan or gluten free thin. Then they can choose from seven sauces, four cheeses, eight meats and 16 veggies and best of all, there's no penalty for piling on…there's more than a million combinations of handcrafted personal pizzas to choose from.
Pie Five bakes each perfect personal pizza in a specially designed oven. By the time the guest arrives at the register, their hot, bubbly, pizza perfection is ready. And whether they select from one of Pie Five's specialty recipes or create their own, it's all the same great price: A handcrafted, artisan pizza that would cost $13-15 in an upscale restaurant for under $7.
Pie Fivers can also add a fresh, hand-made salad, tossed right in front of them while their pizza reaches hot, cheesy perfection. Dessert offerings include Turtle brownies and chocolate chip pizza cookies, as well as seasonal pies and cakes, all baked fresh daily.
"With 60 years of combined experience in the restaurant industry, we simply could not have found better franchisees to lead us northward than the Drapers," said Randy Gier, chief executive officer of Pie Five Pizza. "They bring the stellar backgrounds, enthusiasm and familiarity with the local markets that we seek in our franchise partners. We are honored to support them as they introduce our game-changing concept in Michigan and Wisconsin."
Pie Five has been named among Fast Casual's 2014 Top 15 "Movers & Shakers," a 2012 Hot Concepts winner by Nation's Restaurant News and one of "10 Hot New Restaurant Chains from Established Brands" by Forbes.com. The company currently has 37 locations in nine states (Florida, Kansas, Maryland, Missouri, North Carolina, Tennessee, Texas, Utah and Virginia) with more than 400 announced company-owned and franchise units under contract in 16 states and Washington, DC.
The Drapers expect to open their first Michigan restaurant in the Detroit market next summer, with the first Wisconsin location opening in the greater Milwaukee area in late 2015.
ABOUT PIE FIVE PIZZA CO.
Pie Five is a subsidiary of Pizza Inn Holdings, Inc. (NASDAQ: PZZI), based in the Dallas suburb of The Colony, Texas. Pizza Inn Holdings is an owner, franchisor and supplier of more than 275 restaurants operating domestically and internationally. Pie Five Pizza Co. is the leading brand in the rapidly growing fast-casual pizza space, offering individual handcrafted pizzas with fresh ingredients made to order in less than five minutes.
To learn more contact
Mark Ramage I Franchise Development Manager
3551 Plano Parkway I The Colony, TX 75056
M: 254.644.6035 I O: 469.384.5108
mramage@raverg.com I franchise.piefivepizza.com