Stuffed-Crust Inventor Looks to Bring Pizza Industry Into Chipotle Era
Former food scientist at Pizza Hut now designing pizzas at fast-casual upstart Pie Five
When Patty Scheibmeir was working as a food scientist at Pizza Hut in the early 1990s, she came up with an innovation that would transform the industry: stuffed crust.
By infusing dough with mozzarella, Scheibmeir made crusts more appealing to customers who used to just leave them on the plate. And she helped kick off a fast-food arms race for decadent creations that has continued to this day. (Doritos tacos, anyone?)
Two decades later, Scheibmeir is working on an even more ambitious task: bringing pizza into the fast-casual era. She's now vice president of research and development for Pie Five, one of several chains trying to replicate the success of Chipotle Mexican Grill Inc. The idea is to take Chipotle's approach — fresh ingredients, innovation and a menu that encourages customization — and apply it to the slow-moving and highly fragmented pizza business.
 "We can make things happen much faster," said Scheibmeir, 49. "At Pizza Hut, there was a hesitancy to try things. This is a much smaller team, and we don't mind putting stuff out there and seeing if it works."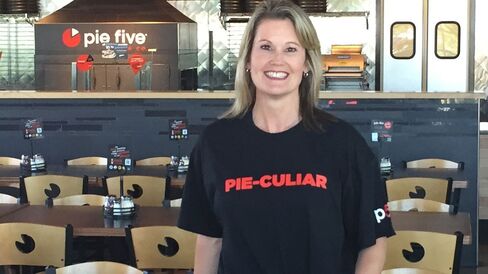 Pie Five, a chain based near Dallas that was started four years ago, has plenty of competition in trying to become the "Chipotle of Pizza." Pieology Pizzeria, Blaze Pizza and Mod Pizza are among the companies seeking the title. And Chipotle itself has its own pizza business — Pizzeria Locale — that it says has the only rightful claim to the designation.
The upstarts aim to lure away business from major national chains by offering personalized pizzas made with better ingredients. Technology also plays a role. Scheibmeir's first project at Pie Five, which she joined about a year ago, was figuring out how to get the pizzas hotter.
When Scheibmeir arrived, customers had been complaining about pan pizzas not cooking all the way through when they were loaded with toppings. In response, she created a 3-inch square aluminum device that is placed in the center of the pie to help it bake.
"We have to make sure every single bite is hot," she said.
Pie Five is operated by Rave Restaurant Group Inc., which was formerly known as Pizza Inn Holdings. Pizza Inn has been around for decades but lagged behind the likes of Domino's Pizza Inc. and Yum! Brands Inc.'s Pizza Hut. It filed for bankruptcy in 1989, and though it re-emerged from Chapter 11 in 1991, the company struggled to find the right formula.
Rave now sees Pie Five as its most promising bet, and it's sinking money into the concept. The chain had sales of about $16 million last year and isn't yet profitable. Randy Gier, the company's chief executive officer, said Pie Five will end 2015 with approximately 100 locations. There are plans for 500 restaurants by 2020.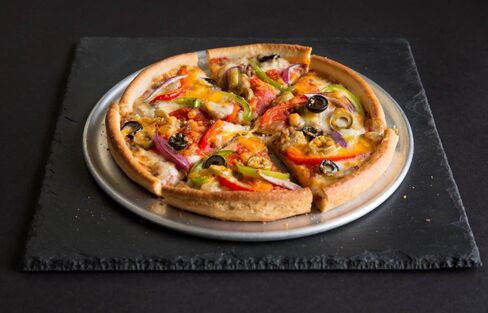 For now, fast-casual pizza remains a small fraction of the industry. There are at least 20 such chains in the U.S., with total sales of about $400 million last year, according to Technomic. That's just over 1 percent of the total $36 billion U.S. pizza business. But the category is growing quickly. The top six chains, including Pie Five, had a total of 259 locations last year, up from 102 in 2013.
Even so, Pie Five has an uphill fight. It isn't the biggest of the new chains. Pieology posted sales of $44.6 million last year, and Blaze — a business backed by LeBron James and other celebrities — had $33 million. And none of the upstarts are assured success, said Dennis Lombardi, a food-industry strategist at WD Partners.
"It's like the Oklahoma land rush," Lombardi said. "Many will probably survive, but only a few will thrive. I can't see one of these guys becoming a Domino's — it takes decades to get where they are."
Scheibmeir is currently working on next year's menu. Pie Five does 10 new pizzas each year — Carolina Golden BBQ Pie, with pulled pork, crisp pickles and barbecue sauce was released this summer — and Scheibmeir is whittling down her list of about 50 flavor ideas. Her team then develops prototypes and releases the most promising options.
Scheibmeir says she can develop and launch a new pizza in about three months. It was much different in the 1990s with stuffed crust.
Scheibmeir got that idea in 1992 after a man in a focus group said he typically gave the crusts to his dog. She went to the grocery store, bought some string cheese and started rolling it into pizza dough. It took almost three years for that inspiration to turn into a menu item. Stuffed crust was seen as a risky concept, and Pizza Hut threatened to nix the product before its debut in 1995, she said.
Pizza Hut also had to ward off claims that others invented stuffed crust. New Jersey pizza maker Anthony Mongiello, armed with a 1987 patent, sued the company for $1 billion, arguing he and his family had pioneered the innovation. Pizza Hut won the case.
Scheibmeir faces less resistance to innovation these days, when a fast-evolving menu is seen as an asset, she said.
"We just have to make sure the menu stays fresh and customers want to keep coming back to see what's coming next," Scheibmeir said.
Read the original post on www.bloomberg.com