Dallas, TX  – Pie Five Pizza is adding another expansion deal to its growing Circle of Crust. The brand known for fresh, custom, artisan pizzas served in under five minutes today announced plans to add up to 10 new Pie Five locations in Kansas City. Under the new development agreement, franchisee, Dave Goebel, along with sons Kevin and Kerry and daughter Lyssa, plan to strategically fill in trade areas in the Kansas City metro area on both the Kansas and Missouri sides. Additionally, the team is looking north of the city in St. Joseph, MO.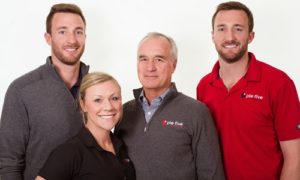 "Our family couldn't be more pleased with our decision to be part of the Pie Five family — the first two and a half years with Pie Five have significantly exceeded our expectations and initial projections," said Goebel. "Our guests have responded extremely well to this innovative approach to high quality, customized and fast pizza. We're excited to extend our reach in the Kansas City, Lawrence, Topeka, Manhattan and St. Joseph areas in order to become even more convenient to pizza lovers."
Goebel brings 35 years of experience in the retail, food service and hospitality segments and currently serves as president of KC Pie, LLC, a multi-unit franchise partner for Pie Five Pizza Co. He is the former chief executive officer of casual-dining Applebee's restaurants.  KC Pie, LLC currently owns and operates eight Pie Five Pizza Co. locations with a ninth set to open next later this month.
"Additionally, we're excited to continue our affiliation with Children's Mercy Hospital," said Goebel, who serves on the board at Children's Mercy Hospital. "We are closing in on our goal of $100,000 in support for the outstanding work this organization does in the states of Kansas and Missouri."
Throughout the year, KC Pies LLC has given 5% of their totals sales every Monday toChildren's Mercy Hospitals. They have donated over $80,000 to date.
This is the second Pie Five franchisee to add additional locations this year. Last month, franchise owner, Rob Byford, signed a development deal to add 7 new Pie Five location s in the Memphis market. The fast casual pizza leader currently has 400 locations in development.
Pie Five's unique fast casual model allows patrons to customize a personal handcrafted pizza, choosing from a wide selection of fresh, artisan ingredients — all in under 5 minutes. Pie Five pizzas bake in just 145 seconds in a custom-designed, state-of-the-art oven. There are millions of possible pizza combinations Pie Five customers can create with four crusts (including artisan thin, classic pan, whole grain Neapolitan and gluten-free), seven sauces and 28 fresh toppings. Additionally, guests can add one of Pie Five's freshly-tossed hand-made salads.
Read original post on: www.restaurantnews.com